Want to drive a ton of screws with better efficiency? An impact driver is an ultimate fastener that comes up as an instant aid in a number of situations. From your home needs to industrial and manufacturing processes, the impact driver is an amazing power tool with greater proficiency.
How Impact Driver Works?
There are so many kinds of drivers or drills, you would have probably seen around you. Hammer drill, cordless drill/driver and so on. An impact driver is one of such tools or gadgets that is famous for its efficient driving speed with an amazing feature of producing  a greater amount of Torque.
What makes an impact driver super amazing, is its fast moving hammer that lets your arms relieved from pressure. The impact driver produces a rotational force in the downward direction and  with a huge amount of Torque, it is specialized in driving screws with an utmost efficiency.
What is Reconditioned Impact Driver?
A reconditioned impact driver is the one that is refurbished or repaired by the manufacturers. But the refurbishing does not refer to any of the damages or missing parts. Rather, once an impact driver is reconditioned from the main factory, that is sold as a Reconditioned Impact Driver with everything in proper condition and complete warranty.
Types of Reconditioned Impact Driver:
Just like a normal or new impact driver, a reconditioned impact driver is also classified into two major categories:
Manual: With the manual impact driver, you will see the design that consists of heavier outer sleeves that surround the inner core. Due to an increasing trend of motorized impact drivers, the manual ones are overlooked these days.
Powered: This is the category that refers to the motorized impact driver and is electrically powered. You may find cordless powered impact drivers or the ones available with cord as well. In both cases, the electrically powered driver helps you out in accomplishing tasks without physical effort or stress.
How to Buy A High-Quality Reconditioned Impact Driver?
If you have decided to purchase a reconditioned impact driver, you must be aware of the significant factors to be considered while buying the driver.
Assess Your Need: For what purpose, you are buying the impact driver. Either you have to perform drilling tasks at home, or somewhere in a construction based project. The type of your need will determine how much powerful impact driver you need.
Speed: Different impact drivers  come up with varying speed options. Depending upon your requirement, you must consider the speed option as well. For the bigger projects, you are supposed to get the driver with an enhanced speed option and so on.
Size and Weight: Look at the size and weight of an impact driver. Get the one that is easy for you to be carried.
The amount of Torque: It is a fact, an impact driver is popular for its great driving torque. But there are different options available with different rates of torque. So, evaluate your requirement and opt the driver that may cater your needs efficiently.
Reconditioned Impact Drivers by Famous Brands:
Do not get confused with the term 'Reconditioned Impact Driver'. Every famous brand is coming up with its models of reconditioned drivers. Here, you may have a look at various options:
DC825BR 18V Cordless 1/4 in. Impact Driver (Bare Tool):

This model of reconditioned impact driver by Dewalt includes all necessary parts and functions like a newer one. With the highlighted specifications, the impact driver comprises of:
A frameless motor.
Produces a torque of around 1,330 in-lbs
Enhanced application speed of 0-2,400 RPM/0 – 2,700 IPM
Bare Tool type battery included
Voltage: 18 V
Cordless impact driver with the chuck size of ¼ in.
DCF885BR 20V MAX Cordless Lithium-Ion 1/4 in. Impact Driver (Bare Tool):
The highlighted features of this model by Dewalt include:
Enhanced speed of 2,800 RPM for faster applications.
The Bare tool battery with Li-Ion  as the type.
Voltage: 20 V
Cordless impact driver with the driver size of ¼ in.
X4 Reconditioned 18-Volt Lithium-Ion Cordless Impact Driver Kit:

A very affordable option in a wide range of reconditioned impact drivers is the model
by RIGID. The astonishing features include:
An efficient speed of 2,400 RPM.
Lithium Ion battery included.
Cordless impact driver with the driver size of ¼ in.
Voltage: 18 V
1 year limited warranty
PS41-2A-RT 12V Max Cordless Lithium-Ion Impact Driver:
An advanced form of impact driver from Bosch includes the given features: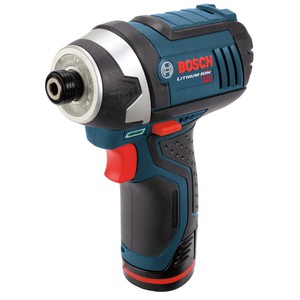 2,600 RPM for faster application speed.
The torque of 930 in-lbs.
Lithium Ion type battery included.
Hex type chuck with a size of ¼ in.
Voltage: 12 V
23614-RT 14.4V Cordless BLUECORE Impactor 1/4 in. Fastening Driver:
Let's explore the mind-blowing features of this model by Bosch:
Innovative Hammer and Anvil system.
Torque of 1,150 in-lbs.
Fastest speed with 2,800 RPM.
Hex type driver with a size of ¼ in.
Ni-Cd type battery included.
Cordless driver with Pistol Grip handles style.
Voltage: 14.4 V
www.powertoolexpert.com has been providing information about the latest power tools on the market apart from giving regular updates about the functionality of these products. You will come across no difficulties finding plenty of reviews along with information about how devices like these can and should be used to deliver performances of the type you expect.
Latest posts by Dustin T. Fredrickson (see all)